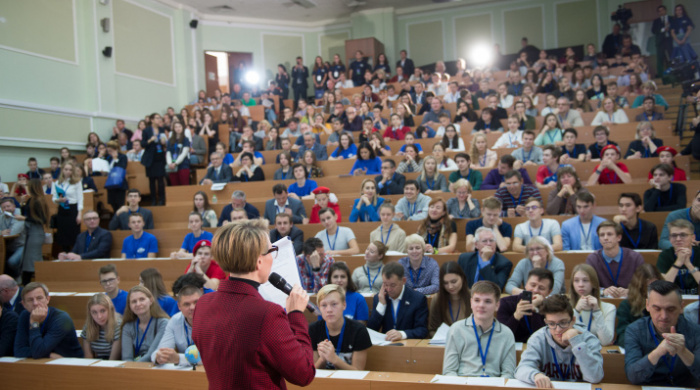 On the venue of the Geographical Dictation. Photo by Alexey Mikhailov
On October 30, 2022, the international educational action of the Russian Geographical Society "Geographical Dictation" will traditionally take place for the eighth time. This week, the 1000th venue was registered for participation. It was the representative office of Rossotrudnichestvo in the capital of Syria - Damascus.
Geographical dictation is held annually since 2015. Its participants answer questions about geography anonymously. Over the entire history of this educational campaign of the Russian Geographical Society, over 2.4 million people took part in it.
Since 2017, when the large-scale event became international, 122 countries have joined it. Geodictation is written on all continents. In 2021, its questions were also answered in Antarctica — at two Russian stations Progress and Mirny. In 2018, large-scale action of the Russian Geographical Society conquered space - since then it has been held annually on board the International Space Station.
Any Russian and foreign institutions can conduct Geodictation: schools, universities, libraries, museums, national parks, nature reserves and other organizations. Venue registration continues on the website dictant.rgo.ru/en. You can apply for participation until October 21, 2022 inclusive.
To date, the number of registered venues of the Geographical Dictation has exceeded 1000. Applications have been received from 79 Russian regions. 21 foreign venues in 18 countries have also registered. The foreign venues are already in Argentina, Germany, Egypt, India, Iran, Spain, Cuba, Malta, Romania, Serbia, Tajikistan, France, Eritrea.
The questions of the international action of the Russian Geographical Society will be answered at the Skolkovo Institute of Science and Technology, the All-Russian State Institute of Cinematography, in the national park "Russian Arctic", the state historical and archaeological museum-reserve "Tauric Chersonesos" in Sevastopol, the All-Russian children's center "Eaglet", on board of ships and spaceports, on trains Moscow - Nizhny Novgorod - Moscow, on four balloons of the Crimean Center for the Development of Aeronautics.
The Geographical dictation can also be written online. The online campaign starts on the dictant.rgo.ru website on the same day as on the face-to-face platforms.