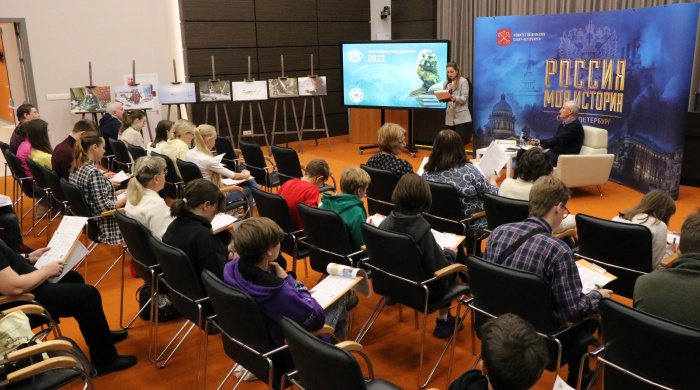 Geodictation at the St. Petersburg State Budgetary Institution of Culture "Museum and Exhibition Center". Photo: Julia Dugnist
Russian Geographical Society publishes correct answers to all variants of the Geographical Dictation - 2022.
The novelty of this year was a special adapted version for foreign participants which included questions from foreign partners of the Russian Geographical Society. In addition, this version was first translated into English, Arabic, Spanish, Chinese, French and Hindi. Also options for the visually impaired participants, as well as online and demo variants were available in English. You can check the Dictation answers here.
Dictation tasks traditionally consisted of closed-type questions. Participants of the educational campaign were asked to establish the correct order, choose an extra option from the group of answer options, establish a correspondence and solve other geographical problems.
Each variant included 40 questions. The first part was the so-called geographical educational program: these are 10 basic level questions based on well-known facts. The second part included 30 more complex questions that required erudition, logic and ingenuity.
In addition to assignments from experts from the Russian Geographical Society, the dictation included questions sent by participants of the annual international competition "Write your own question for the Geographical Dictation".
Another innovation of the Geographical Dictation 2022 was that the main version was supplemented for the first time by questions sent by participants in a series of thematic competitions held in the spring and timed to coincide with the Year of Cultural Heritage of the Peoples of Russia celebrated in our country.
In 2022, the international educational campaign of the Russian Geographical Society was held for the eighth time. The dictation took place at noon on October 30 at in-person and remote venues, and very soon its participants will be able to find out their results - the processing of forms will be completed after November 30. In total, 8667 venues of the campaign were registered in Russia and 102 countries of the world. For those who are unable to join the event on the venues, online dictation is held annually. This year it was possible to test your knowledge online from October 30 to November 10.
Through the efforts of the organizers of the venues, every year the educational action of the Russian Geographical Society becomes more and more exciting, growing with creative formats and new unusual venues.