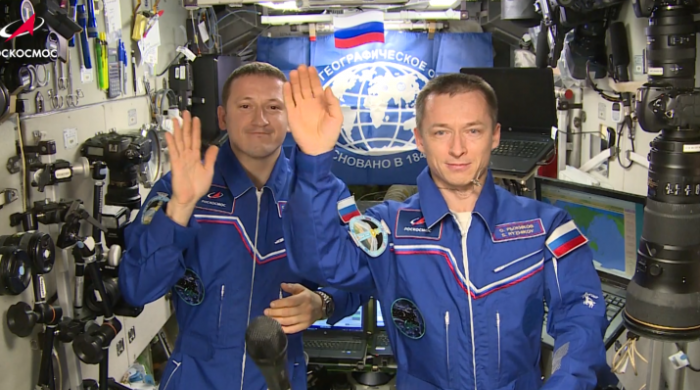 By tradition, one of the venues for the Geodictation will be the board of the ISS. A frame from the video message of cosmonauts Sergei Ryzhikov and Sergei Kud-Sverchkov to the participants of the Russian Geographical Society in 2020
You can register your venue for the Geographical Dictation 2022 Until October 25, inclusive. Thus, everyone who wanted to, but did not have time to add their location for the action, has five more days to do so.
The 8th Geographical Dictation will take place on October 30 at 12:00 local time — it is a large-scale international action aimed at popularizing geographical knowledge. In 2022, tasks can be completed in person or remotely at specialized venues.
The number of registered venues has already exceeded 7,000. Traditionally, geographical dictation venues are organized in schools, universities, libraries, museums, nature reserves and many other places.
To view the Dictation venues location map click here.
Among the registered venues in 2022 are the International Space Station, the Progress and Mirny polar stations in Antarctica, the Sapsan Moscow-St. Petersburg train, space centers "Yuzhny" at Baikonur and "Vostochny" (Tsiolkovsky city, Amur region), Kazan Railway Station, Museum of the World Ocean in Kaliningrad, Russian Ethnographic Museum in St. Petersburg, a floating nuclear power plant in Chukotka, the Tazovskoye oil and gas condensate field and many other objects.
Other Dictation venues around the globe are the site of Rosatom for Central and South Africa, centers of the Russian Geographical Society in France, Serbia and Moldova, Russian schools, including those under Russian diplomatic missions.
We remind you that any organizations can register a venue. To do this, you need to submit your application via website. All applications submitted before 23:59:59 (Moscow time) on October 25 will be considered.
If the epidemiological situation worsens due to the coronavirus, the face-to-face venues of the Geographical Dictation will be able to hold the action remotely. If necessary, organizers have the opportunity to quickly change the format of the action from face-to-face to remote version.
It will be possible to pass the dictation in a remote format only on October 30 from 12:00 to 13:00 local time. Participants who have pre-registered at their selected venue will receive a special link from the organizers. By clicking on it, they will have access to all the materials of the dictation. Participants will be asked to fill out a questionnaire and will receive an individual 13-digit form number (code). See more here.