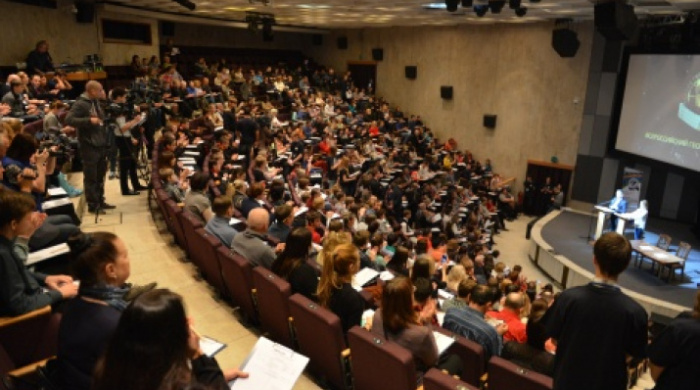 Geographical Dictation participants at the Central House of Artists in Moscow. Photo by Nikolay Razuvaev
Traditional international educational campaign of the Russian Geographical Society "Geographical Dictation" will take place on October 30, 2022. Register your venue at https://dictant.rgo.ru/en
Any organizations — schools, universities, libraries, museums, national parks, and others — can organize a venue for the action. The first registered Dictation platform this year was secondary school No. 5 in the city of Bogdanovich, Sverdlovsk Region, Russia.
Among the most unusual venues of past years are the Lomonosov Nuclear Floating Power Unit, the Nizhny Novgorod-Moscow train, the Cruiser Aurora museum ship, oil platforms in the Caspian Sea and the Katunsky Biosphere Reserve.
You can apply for the Dictation and register your venue here until October 21, 2022 inclusive.
Please note that when conducting the Dictation, all venues must take into account the current epidemiological situation in their particular regions.
Shall the epidemiological situation change to worse, all venues of the action will be given the opportunity to change the event format from face-to-face to remote.
Geographical dictation can also be written online. The online campaign starts on the website dictant.rgo.ru on the same day as on face-to-face venues, but will be available for several days so that everyone can test their knowledge. This year, geographic online testing will run from 14:00 October 30 to 14:00 November 10 Moscow time.
Geographical Dictation 2022 will have four versions, each of which will include 40 questions divided into two parts. The first part of the basic level of 10 questions is "geographical educational program" based on well-known facts from geography. The second part of 30 questions will require you to apply imaginative thinking, logic and erudition.
This year's tasks will also include questions from non-professional authors sent to the Russian Geographical Society competition "Write your question for Geographical dictation", including questions on geography related to painting, music, literature and folk art, as part of the Year of Cultural Heritage of the Peoples of Russia .
Geographical dictation has been held annually since 2015. Participants anonymously answer questions about geography of Russia. Assessment of the level of geographical literacy is not the main task of the action. It is educational in nature and aims to popularize geographical knowledge, as well as to increase interest in science.
Over the entire history of Dictation, more than 2.4 million people have taken part in it. In 2017, Dictation became international for the first time. The total number of countries that joined the campaign for all the years of its implementation was 122.
Knowledge of geography was tested on all continents. In 2021, the action took place in Antarctica, at two Russian Antarctic stations - Progress and Mirny. Since 2018, the Dictation has been held annually at the International Space Station. Last year, a record number of venues all around the globe were organized - 7792.
The Regulations on the Geographical Dictation can be found on the website of the action.