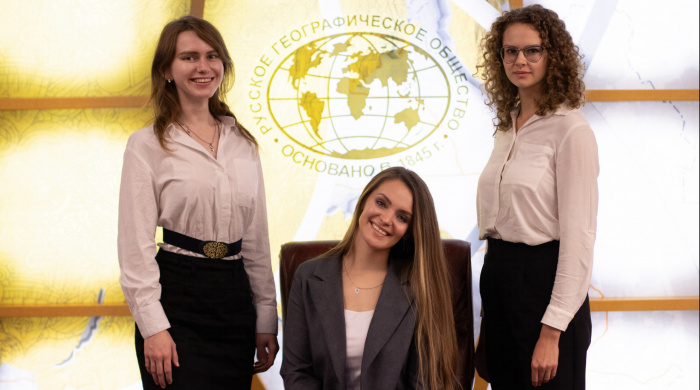 Coordinators of the project "Geographical Dictation – 2023" Photo: RGS press service
Registration of the Geographical Dictation – 2023 venues has been extended until November 14, inclusive. Thus, everyone who wants to, but did not have time to register a venue, has 10 days left.
At a cosmodrome, in the basket of a hot air balloon, at an Arctic station or in Ice Cave – your venue can become one of thousands of places of attraction for the participants of the Geographical Dictation. In 2023, it will be held on November 19.
More than 8,000 different venues have already confirmed their desire to participate in the international educational campaign, which has become traditional not only for Russia, but also for foreign countries. You can become a part of this large-scale event!
Every year more and more organizations join the Geographical Dictation. This year, among the registered venues are the nuclear icebreaker "Yamal", Kizhi Island, Volcanoes of Kamchatka Nature Park, Kungur Ice Cave, the Tolstoy museum estate "Yasnaya Polyana", the Nikolai Tsitsin Main Botanical Garden of the Russian Academy of Sciences, and many others.
Among the venues for the campaign abroad are the venue at the Consulate General of Russia on Svalbard Island in Norway, RAF, the RGS Center in France, Russian schools, including at Russian diplomatic missions.
We would like to remind that any Russian and foreign organizations can register a venue. To do this, you need to submit an application on the website dictant.rgo.ru . All applications submitted before 23:59 (Moscow time) on November 14 will be considered.
You can view the current map of the location of the campaign venues here.
Don't miss the chance to become a part of a big event: the Geographical Dictation – 2023!